Ramón Souto
We are going to discuss one of the most famous varieties of cannabis, one of the varieties that attracts more fans. It is not really a strain but a whole family of them: the family known as "blue".
Within this big family, the one that stands head and shoulders above the rest is the Blueberry, still available in regular seeds so we can select our own specimens for cross-breeding. The "blueberry" is a variety fit for magazines, thanks to the coloured shades it presents during flowering, which make it really photogenic in all situations.
What is the history of Blueberry?
We need to go back to the late 70s-early 80s. The breeder known as "DJ Short" had great appreciation for the organoleptic properties (taste and smell) of plants, while he was less focused on high yields.
He loved dearly the Sativa "Landrace", of local tradition, and he grew plantations of around 100 plants each, indoors as well as outdoors, keeping two specimens of the characteristics he was looking for. After working for many years, he obtained several varieties that were recognised throughout the world.
After much effort, he kept a female Thai (Juicy Fruit), with tropical fruit taste and an intense effect that could last for hours. On the other hand, he chose a Purple Thai, a variety of dark colour, with purple tints when temperatures descend.
He also worked with Afghan varieties, although the effect and the type of cultivation varies a lot compared to the Sativa ones, especially the shorter effect on the body and shorter growing time. The famous Blueberry is the result of crossing a female Purple Thai and an Afghan male.
In the 90s decade, DJ Short left the USA for the Netherlands. When he got there, he gave many of his seeds to some of the most recognised seed banks at the time. He decided to settle in the Netherlands because working with cannabis there was allowed. He started working for the seed bank Sagarmatha, where many of his seeds were commercialised, like the Blueberry, the Flo and the Blue Velvet.
After some time, he changed companies and landed on Dutch Passion, where he worked on their strains to offer new varieties (Blue Heaven, Purple Passion or Blue Moonshine). Lastly, he moved to Switzerland where he worked for the Spice of Life Seeds bank, where they created famous hybrids like Blue Satellite, Rosebud or Moonshine Rocket Fuel.
In the year 2000 he went back to Canada where he created a bank under his own name. Nowadays, he keeps working in Old World Genetics, although it is his own son who manages the company. Just this year, the Blueberry won the High Times Cannabis Cup.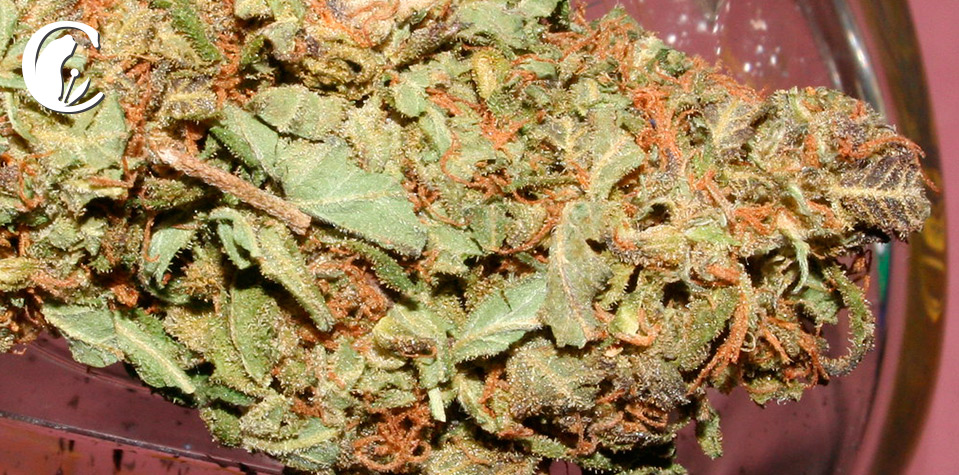 What can we expect from Blueberry?
The lineage of the Blueberry was composed of three varieties (Afghani, Juicy Fruit, and Purple Thai). A long time was needed to stabilise these varieties, due to the tendency to hermaphroditism of the "Landrace" Sativa varieties.
The Blueberry offers great power and taste, although it is not a very productive plant. It is Indica dominant (80%) and contains an estimate 18%-20% THC. The flavour left in the palate is sweet, flowery and with an intense wild berries taste.
It is often employed for medicinal use because of its sedative, anxiolytic, anti-inflammatory, anti-stress, antidepressant, sleep inducing properties… It can be found in most dispensaries and associations.
Towards the end of the flowering stage it shows beautiful blueish or purple tonalities, an ideal moment to take spectacular pictures. It offers a good amount of resin, with great return in your extractions, of a great organoleptic quality.
Even though it is a variety of Sativa descent, it has a short flowering time thanks to the characteristics of the Afghan, so it can be trimmed around 50 days into flowering. The best part is you can obtain the seeds in a regular format, which is ideal to make a strain selection or experiment with your own crossed breeds.
This is one of the most famous varieties in the history of marijuana. If someone has not tried it yet, we recommend including it in their garden someday. However, the regular versions of DJ Short's bank are not cheap at all: ten seeds can cost around €100.
We keep gathering information on some varieties that are as famous as Hollywood movie stars. Recognised the whole world over, they never go out of fashion, and they are chosen by many growers nowadays. I bid farewell until the next article and I wish you the best smokes and to keep growing our ideas.